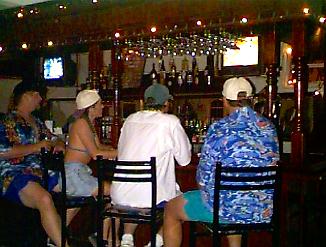 Winners Sports Bar and Restaurant
October 3rd, 1998
With all the interest in American Baseball slugfest this summer, this Crew from Calgary Canada have adopted the Chicago Cubs and watched last night's playoff game from the air conditioned comfort of Winners Sports Bar and Restaurant. Unfortunately for the Crew from Calgary, it doesn't look like the Cubbies will make it to the World Series again this century. The Atlanta Braves ended their season - but what an exciting season it was! If sports is your thing, then Winners Sports Bar is your place in Negril. Great food, cold drinks, reasonable prices and no matter what the sporting event, you will be able to watch it at Winners in air conditioned comfort! And if you are into the horses - Winners has simulcast off track betting from race tracks from England and the USA. From the Derby to the Darby, you can place your bets on simulcast races and not miss a stride! Winners' sister property, Thrills Resorts, offers a free shuttle from Thrills to Winners - so if you are a horseracing or sports fanatic, be sure to remember Winners and Thrills Resort (soon to be a Beingee's sponsor) on your next stay in Negril. Note: our ISP has completed their upgrade and things should be ready for Sunday night's NEN (Negril Entertainment Network) broadcast with Ivo Wiser and the Airwave Musicians at the Negril Yacht Club. As usual, the information on how to join the NEN will be posted on the Negril Message Board - found easily on the Beingee's Main Menu!
At 9:04am - a sunny Sunday morning. The temperature is 84° F, 29° C.
Click here for Translation







This page is sponsored by Catcha Falling Star on the majestic cliffs of beautiful Negril Jamaica. If you like this website, be sure to book your next visit with Catcha Falling Star - just click on the link to take a tour of the property! And be sure to let them know you saw them on Beingee's! If you want to be a sponsor, bemail us. Thanks!
Other area to visit in Jamaica:

© Copyright 1998. Beingee's. All Rights Reserved.