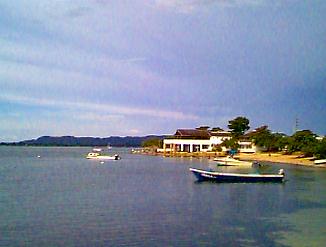 On A Clear Day
August 17th, 1998
It is an exceptional day in Negril Jamaica as beautiful blue sky combined with the sparkeling Caribbean to paint the mountains of Westmoreland and St. James a wonderful shade of blue! Today's picture was taken near the Negril Yacht Club - which we are pleased to announced as out latest sponsor! We will soon have them added to our Where To Section, but in the mean time you can visit their website by clicking here or email them directly at negrilyacht@cwjamaica.com - it is an interesting website - the them know what you think! Thanks mon! Note: The phone situation in Negril seems to be getting worse - if that's possible. If anybody out there has any solutions - please let us know! Due to the bandwidth problems - the best we can do for the NEN broadcasts is to provide you with audio - but we are still working on the video - soon come hopefully! Once again, Back Ah Yawd is on break until we can get come of these phone problems solved. Thanks for your understanding in this matter! Irie!
At 5:12pm - the sun begins it's journey into the Caribbean. The temperature is 86° F, 30° C.
Click here for Translation








This page is sponsored by Charela Inn on the beautiful beach of Negril. If you like this website, be sure your next visit includes a stop at the fabulous Charela Inn and Le Vendome Restaurant! Let them know you saw them here! If you want to be a sponsor, bemail us. Thanks!
Other area to visit in Jamaica:

© Copyright 1998. Beingee's. All Rights Reserved.