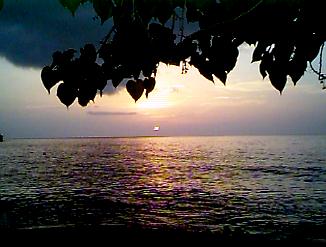 Sunday Sunset of the Week
August 16th, 1998
It has been nearly a year since we started our Sunday Sunset of the Week and we have brought to you some of the best sunsets from our tropical paradise on a weekly basis. We want to thank all those that been following this example of the beauty that is in the world - a real gift from Mother Nature! Situated on the western most point of Jamaica, Negril gets some of the most spectacular sunset imaginable anywhere. If you don't believe us, why not book a week at any of the comfortable hotels on the beach or the cliffs. You can check out all our sponsor hotel properties in the "Where To Stay Section" off the Beingee's Main Menu! Note: Join us live with Ivo Wiser and the Airwave Musician playing on Sunday night. The NEN (Negril Entertainment Network) hopes to bring you a live sunset - so be sure to check the message board for details around sunset on Sunday. After sunset, get ready for some of the best reggae and interviews LIVE from the Negril Yacht Club! Yah mon! See you soon! Note #2: Because of the bad phone lines then Negril has been experiencing for the past few months and the limited internet access we can get, Back Ah Yawd is on break until we can get come of these problems solved. Thanks for your understanding in this matter! Irie!
At 4:43pm - the begins it's journey into the Caribbean. The temperature is 89° F, 31° C.
Click here for Translation








This page is sponsored by Charela Inn on the beautiful beach of Negril. If you like this website, be sure your next visit includes a stop at the fabulous Charela Inn and Le Vendome Restaurant! Let them know you saw them here! If you want to be a sponsor, bemail us. Thanks!
Other area to visit in Jamaica:

© Copyright 1998. Beingee's. All Rights Reserved.