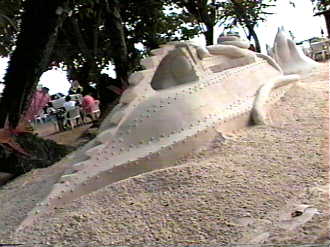 Dive! Dive!!

14th, September 1996 Continued

Continuing with the sand sculpting theme, Tom and his buddies created the perfect sculpture, a copy of Captain Nemo's craft from the movie that was filmed a few yards away. As an added flair, I tried my best Batman TV Show (Zap! Pow!) camera angle to give the impression of movement. Dive! Dive!! (Oh well...)
Remember to keep checking back for daily updates. Same Be-time, same Be-channel.

At 10:13 am, the morning is glorious. Temperature is an outstanding 86° F., 30° C.