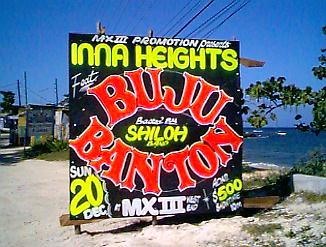 News, News, News!
November 14th, 1998
Saturday seems to be big news day for Negril Jamaica! As today's picture shows, the legendary Buju Banton will be bringing his latest roots stylings to the equally legendary concert venue MXIII - located across from the Negril Yacht Club. Look for Buju to perform on December 20th! More December news includes the Negril Marketplace Xmas '98 planned for the weekend of December 12th and 13th taking place at the beautiful Mariner's Beach Resort - the last Marketplace in August had many unique gift ideas, and this one is planned just in time for Christmas. Click here for more information! Finally, the Charela Inn would like to announce a fabulous January special - click here or check our Specials section for more details! Daily Music News: The Sunday night NEN broadcast is scheduled so look for the Negril Entertainment Network to start around 8:00pm live from the Negril Yacht Club with the Airwave Musicians. Details on how to party with the NEN will be posted on the Negril Message Board as usual just before the music starts on Sunday night. Come watch, listen and chat with the NEN!
At 3:00pm - hanging out at Winners... The temperature is a constant 78° F, 25° C.
Click here for Translation







This page is sponsored by Catcha Falling Star on the majestic cliffs of beautiful Negril Jamaica. If you like this website, be sure to book your next visit with Catcha Falling Star - just click on the link to take a tour of the property! And be sure to let them know you saw them on Beingee's! If you want to be a sponsor, bemail us. Thanks!
Other area to visit in Jamaica:

© Copyright 1998. Beingee's. All Rights Reserved.