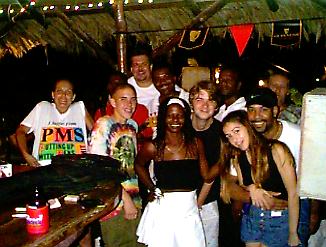 The Negril Crew
November 13th, 1998
The Negril Crew was in full force Friday night as they partied up a storm at the Negril Yacht Club. It was an intense evening, although the Crew got off to a late start on the NEN (Negril Entertainment Network). Included in the Crew was Nancy, Rasta Chuck and Ronaway, Sel-Vin and his wife, Donna, Delroy and the Parrotmon! Make sure to join the Crew on your next visit to tropical Jamaica. Daily Music News: Friday's NEN broadcast was a success (as the picture shows) and things are gearing up for an even better night on Saturday starting around 8:00pm live from the Negril Yacht Club on the Caribbean coast. Look for details on how to party with the NEN posted on the Negril Message Board just before the music starts on Saturday night. Come watch, listen and chat with the NEN!
At 11:57am - Air conditioned comfort at Winners... The temperature is 78° F, 25° C.
Click here for Translation







This page is sponsored by Catcha Falling Star on the majestic cliffs of beautiful Negril Jamaica. If you like this website, be sure to book your next visit with Catcha Falling Star - just click on the link to take a tour of the property! And be sure to let them know you saw them on Beingee's! If you want to be a sponsor, bemail us. Thanks!
Other area to visit in Jamaica:

© Copyright 1998. Beingee's. All Rights Reserved.