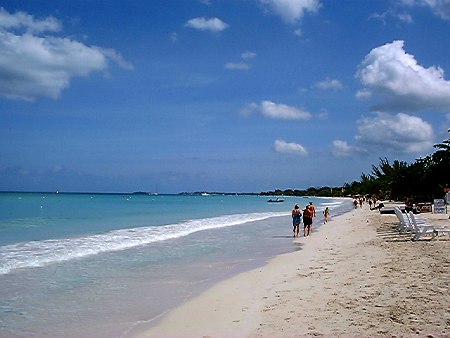 Negril Beach in Summer Season
August 14th, 2000
Taking a stroll on the Negril Beach during summer season is much different than the busy winter months. Gone are the throngs of North American tourists with the summer season also being known as the time that our European friends come to Negril! Italians, Germans, Danes and Swedes not to mention the British, Scottish and the Irish and other visitors from the European community make their presense known. And we have been getting a growing number of Cuban travelers coming to find out what the island of Reggae is all about! A true international destination spot - Negril, Jamaica mon is it!
Daily Music News: The Negril Entertainment Network should be ready for Roots Bamboo live on Wednesday evening, so for details check the Negril Message Board for the latest information on how to join the NEN for the next live webcast and chat in the Negril Chatroom! To make it to the Negril Message Board click on the Main Menu above or below and then look for the Negril Message Board link!
At 12:27pm - oldies at noon on Radio 2. The temperature is 88° F, 31° C.
Click here for Translation








Other area to visit in Jamaica:

To meet the banner advertisers requirements, we need to post this link to their privacy policy section. Give it a click if you have any qualms about it mon!
© Copyright 2000. Beingee's. All Rights Reserved.