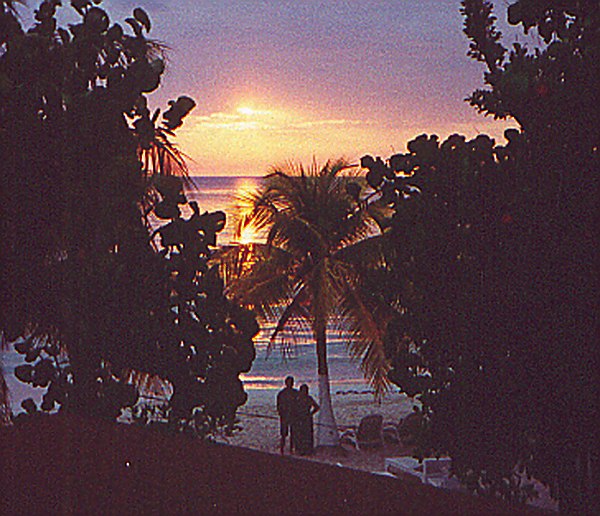 Sunset by Kit!
August 12th-13th, 2000
This week's Beingee's Internet Negril Sunset of the Week was emailed to us by Kit D. Taken from their room at Sea Quest, it shows the scene that Negril is probably the most memorable in the minds of our visitors! Mother Nature has certainly blessed Negril with some of the most amazing scenery available anywhere! And right outside your room no less! For those of you wanting to come down, be sure to check our Specials and Where To Stay sections to contact our various hotel sponsors directly by email!
Daily Music News: The Negril Entertainment Network had another bout on Saturday night with problematic phonelines - but we traced down the trouble and things should be ready for DeBuss next week! The NEN should be ready for a live sunset from Mariner's Inn on Tuesday evening, so for details check the Negril Message Board for the latest information on how to join the NEN for the next live webcast and chat in the Negril Chatroom! To make it to the Negril Message Board click on the Main Menu above or below and then look for the Negril Message Board link!
At 9:33pm - a dog barks in the distance... The temperature is 85° F, 29° C.
Click here for Translation








Other area to visit in Jamaica:

To meet the banner advertisers requirements, we need to post this link to their privacy policy section. Give it a click if you have any qualms about it mon!
© Copyright 2000. Beingee's. All Rights Reserved.