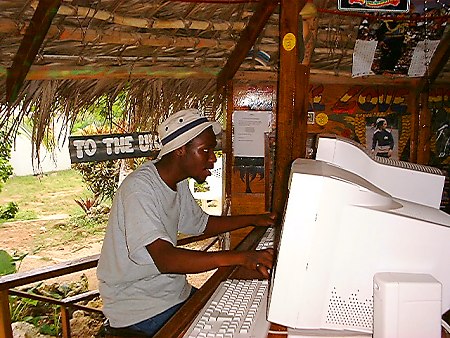 Crazy Joe at Work!
August 11th, 2000
During this time of the year, the slow part of the tourist season, businesses in Negril need to be creative to attract visitors. One of those places that is doing something very unusual is the Thatch Hut Bar! Today's picture show's the Hut's bartender, Crazy Joe busy on the computer trying to arrange the date for the Thatch Hut's Summer 2000 Bashment! In order to have one of the local TV stations (CVM-TV) to attend, the party must take place on a weekend. The dates being looked at are the 26th or 27th of August - as soon as we know something for sure it will be posted on the Negril Message Board and the Shows & Events listing located in the Entertainment section of the Beingee's Internet Negril web site! Stay tuned for more!
Daily Music News: The Negril Entertainment Network will return on Saturday night from DeBuss and late night from Compluseion! We would like for our European friends to join us in their early morning hours, so for details check the Negril Message Board for the latest information on how to join the NEN for the next live webcast and chat in the Negril Chatroom! To make it to the Negril Message Board click on the Main Menu above or below and then look for the Negril Message Board link!
At 8:08pm - the night has just begun... The temperature is 84° F, 29° C.
Click here for Translation








Other area to visit in Jamaica:

To meet the banner advertisers requirements, we need to post this link to their privacy policy section. Give it a click if you have any qualms about it mon!
© Copyright 2000. Beingee's. All Rights Reserved.