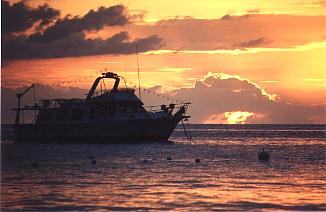 Sunset of the Week
December 13th, 1998
Every Sunday we bring you another great sunset of the week from Negril, Jamaica. Since I have been visiting family in Columbus, Ohio, USA, and was unable to see a Negril sunset, this week's sunset is another one sent to Beingee's from that prolific picture taker - Sel-Vin. If you have any pictures that you think Beingee's may be able to use for a Negril Today page, feel free to send the JPG picture file by email to the above or below address. We cannot promise to use each one, but we will do our best mon! Daily music news: more today on the NEN starting with DeBuss's new Negril radio station - WEST104 from the Negril Cyber Cafe at Eddie's Tigress II in the mornings and continuing tonight with more live reggae from the Negril Yacht Club! As usual, check the Negril Message Board for the latest details on how to join in the party (listen and chat) with Negril Entertainment Network crew from - live from Negril!
At 8:20am - another morning in Negril. The temperature is 80° F, 27° C.
Click here for Translation







This page is sponsored by Catcha Falling Star on the majestic cliffs of beautiful Negril Jamaica. If you like this website, be sure to book your next visit with Catcha Falling Star - just click on the link to take a tour of the property! And be sure to let them know you saw them on Beingee's! If you want to be a sponsor, bemail us. Thanks!
Other area to visit in Jamaica:

© Copyright 1998. Beingee's. All Rights Reserved.