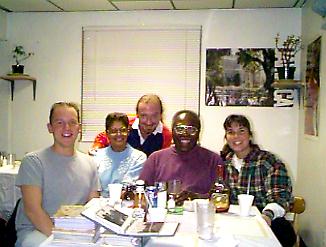 The Other Columbus Crew
December 12th, 1998
Even in Columbus, Ohio, USA people enjoy a little bit of Jamaica. Here is a picture of just a few of some of the people who enjoy Negril, Jamaica in Ohio's cap city. OhioDave and Cyber Host Rob are joined by Jan, Robbie and Laura at the restaurant on Frebis Avenue at A Taste of Jamaica (ph - 614-444-6429). Robbie (in the purple shirt), raised just outside Montego Bay, owns the restaurant and has some great stories about Negril from years past. It was fun reminising with him about past experiences and we are all looking forward to some new ones about our favorite place, Negril, Jamaica! Daily music news: the NEN is back on the air with DeBuss's new Negril radio station - WEST104 from the Negril Cyber Cafe at Eddie's Tigress II in the mornings and continue at night with live reggae from the Negril Yacht Club! Check the Negril Message Board for the latest details on how to party with Negril Entertainment Network crew - listen in and chat with us live!
At 5:30pm - the evening is beginning... The temperature is 85° F, 29° C.
Click here for Translation







This page is sponsored by Catcha Falling Star on the majestic cliffs of beautiful Negril Jamaica. If you like this website, be sure to book your next visit with Catcha Falling Star - just click on the link to take a tour of the property! And be sure to let them know you saw them on Beingee's! If you want to be a sponsor, bemail us. Thanks!
Other area to visit in Jamaica:

© Copyright 1998. Beingee's. All Rights Reserved.