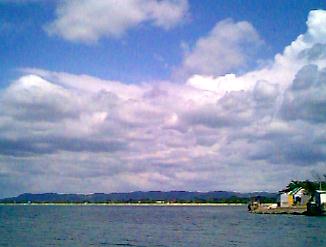 Building Clouds
October 13th, 1998
It was mentioned on the Negril Message Board about the afternoon rains that frequent the tropical climates this time of year. Today's picture shows how the heat of the morning and early afternoon allows the clouds to build up over the interior of the island and then make their cooling appearance in the late afternoon (although today it didn't rain!) The showers are perfect for catching a quick nap before heading out for an evening of reggae in wild and wonderful Negril, Jamaica! Music note: the NEN (Negril Entertainment Network) is set to bring you another Tuesday night of Caribbean fun! The NEN will be live from the Sunset Show at Mariner's Inn! Details on how to join in the party will be posted on the Negril Message Board Tuesday evening. To listen and watch and chat with the folks of the NEN and Mariner's Inn in the Negril Chat Room, you need a copy of the Real Media Player which is downloadable for free from www.real.com. Hope to see you there mon!
At 6:32pm - tunes from Mariner's Inn... The temperature is 85° F, 29° C.
Click here for Translation







This page is sponsored by Catcha Falling Star on the majestic cliffs of beautiful Negril Jamaica. If you like this website, be sure to book your next visit with Catcha Falling Star - just click on the link to take a tour of the property! And be sure to let them know you saw them on Beingee's! If you want to be a sponsor, bemail us. Thanks!
Other area to visit in Jamaica:

© Copyright 1998. Beingee's. All Rights Reserved.