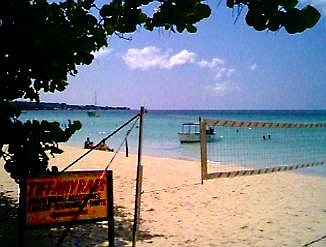 Beach Day at Risky
October 12th, 1998
The beach is a great place to sit and relax in the hot tropical sun and no other beach in the world has the feel of our seven miles of soft white sand. For the athletically inclined, a game of beach volleyball can be the perfect way to spend a couple of hours of action. And for the adventurous, a glass bottom boat ride out to the reefs for a late morning of snorkeling can be the adventure of a lifetime! Negril beach and it's waters are waiting for you! Check out the Beingee's Where To Stay section for places to stay. And don't forget to take a look at the Specials section for some great vacation and other deals! Today's picture was taken from the dance stage at Risky Business, where the NEN (Negril Entertainment Network) should be set to bring you live on Monday night another great evening of music with Mikey and the Working Band! Detailson how to join in the fun will be posted on the Negril Message Board later Monday evening as showtime time approaches around 9:00pm JA time. To listen and watch and chat with the folks of the NEN and Risky Business in the Negril Chat Room, you need a copy of the Real Media Player which is downloadable for free from www.real.com. Hope to see you there mon!
At 1:44pm - blues skys in the afternoon. The temperature is 85° F, 29° C.
Click here for Translation







This page is sponsored by Catcha Falling Star on the majestic cliffs of beautiful Negril Jamaica. If you like this website, be sure to book your next visit with Catcha Falling Star - just click on the link to take a tour of the property! And be sure to let them know you saw them on Beingee's! If you want to be a sponsor, bemail us. Thanks!
Other area to visit in Jamaica:

© Copyright 1998. Beingee's. All Rights Reserved.