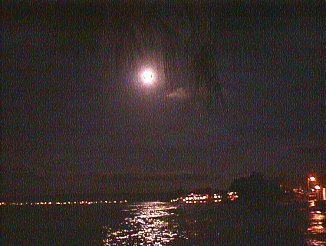 The Moon and the Sea
January 13th, 1998
In Negril, you somehow seem closer to nature. Common occurrences that you fail to notice in you day to day routine find their way into your imagination. A full moon high over the the diamond-like necklace of lights that dot the beach and rising above the West End can lead your thoughts to places they haven't visited in many years. Feel new. Feel young. Feel free. Feel Negril. Our Thirsty Thursday Pub Crawl will be live from Drumville Cove - in both the Negril Chat Room and live in an audio broadcast via Microsoft's NetShow. Yah mon! Download your Netshow Player by clicking on www.microsoft.com. Listen to us live from Negril Jamaica. Orv Bridger from Alfred's Ocean Palace will be playing some Caribbean tunes at Drumville Cove so join us on Thursday starting at Sunset at Tenby's Tigress III R Bar, or meet us in the Negril Chat Room starting around 8:00pm JA time. Back Ah Yawd continues on Shorty's Boat, click on Back Ah Yawd for the latest installment!
At 8:55am, overcast morning. The temperature is 78° F, 25° C.
Click here for Translation






© Copyright 1998. Beingee's. All Rights Reserved.