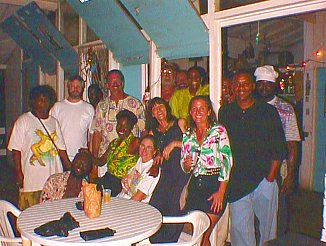 Greetings from Mi Yard!
January 8th, 1998 - 8:32pm
Yah mon - we are LIVE from Mi Yard in Olde Negril. We have been joined by Cheryl, Charlie, Karen, Ringo, the Bull and the rest of this week's Negril Pub Crawl Gang. Everyone is having a great time trying the tapas type Jamaican food samples available from Mi Yard (which is open 24 hours!!!!) Join us in the Negril Chat Room - the address is on the Negril Message Board mon! We will have more updates tonight - please keep checking back. Today's Back Ah Yawd continues at Mi Yard, click on Back Ah Yawd for more! And don't forget the Thirsty Thursday Internet Pub Crawl. Detail will be posted on the Message Board...
At 8:32pm, Mi Yard Rocks! The temperature is 81° F, 27° C.
Click here for Translation






© Copyright 1998. Beingee's. All Rights Reserved.