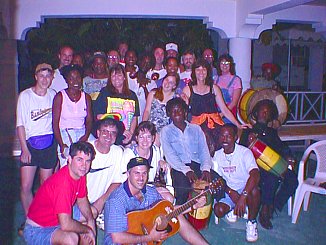 Tigress II Crawl!
January 3rd, 1998 9:56pm
We are live from the Internet Pub Crawl at Eddie's Tigress II in the new stage area with a bunch of Niabingi drummers enjoying the evening. It has been a wild night with the rain holding things up but we managed to get a good party together - no problem! Look for another picture update and a new Back Ah Yawd! Live soon mon!
At 9:56pm, sounds good! The temperature is 74° F, 24° C.
Click here for Translation






© Copyright 1998. Beingee's. All Rights Reserved.