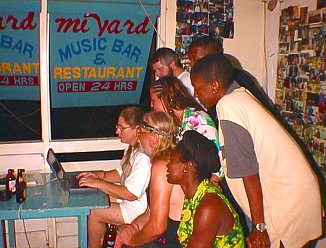 Negril Chat
January 8th, 1998 - 9:24pm
When you join us in the Negril Chat Room, this is how we do it mon! Thanks to the generosity of Delroy from Mi Yard we have been able to come to you live. Estelle has been handling the typing detail tonight - my fingers need a rest mon! We might be having another update tonight - join us in the Negril Chat Room - the address is on the Negril Message Board mon! Today's Back Ah Yawd continues at Mi Yard, click on Back Ah Yawd for more! And don't forget the Thirsty Thursday Internet Pub Crawl. Detail will be posted on the Message Board...
At 9:24pm, what an evening! The temperature is 80° F, 26° C.
Click here for Translation






© Copyright 1998. Beingee's. All Rights Reserved.