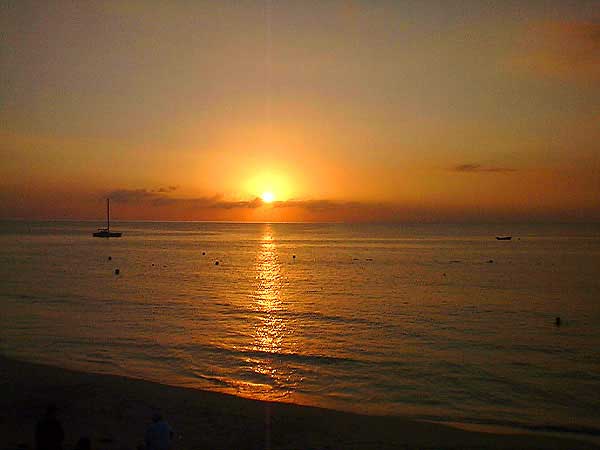 The Meeting of the Board's Sunset
February 11th, 2001
This past week's 3rd Annual Beingee's Internet Negril.Com Meeting of the Board has officially drawn to an end and we figured a Sunset of the Week was an appropriate finale to a dazzling week! Many Negril Message Board readers and posters were in town and there was plenty to keep them busy - the Beingee's Internet events along with Cubba's MXIII Bob Marley Tribute Shows. Because of the overwhelming array of options, the Annual Beingee's Internet Negril.Com Meeting of the Boards will be resheduled from February to November - and the 4th Annual Meeting will be in November 2001! There are some big things being planned in addition to the Donkey Races, the Golf Outting - how does a Taste of Jamaica or Jerk Cookoff sound? Let us know your ideas - the email link is above and feel free to discuss it on the Negril Message Board. The dates are not finalized yet so let us know when to plan the party! BTW, today's Negril Today picture was taken by FatFish! Irie mon!
Daily Music News: The Negril Entertainment Network is taking a few days break! The NEN will be working on more events during the next few weeks but the next scheduled events are on Wednesday. As the time for each event approaches, check for the event details on the Negril Message Board. These posts will guide you through the procedure to join in the live web cast and chat in the Negril Chat Room. To make it to the Negril Message Board click on the Main Menu above or below and then look for the Negril Message Board link!
At 2:50pm - the nap rain is here... The temperature is 84° F, 28° C.
Click here for Translation
Beingee's Internet Negril Privacy Policy
Beingee's Internet Negril.Com is Powered By Globalnet


We use them and they can provide for all your Hosting Needs!

Other area to visit in Jamaica:

© Copyright 2001. Beingee's. All Rights Reserved.