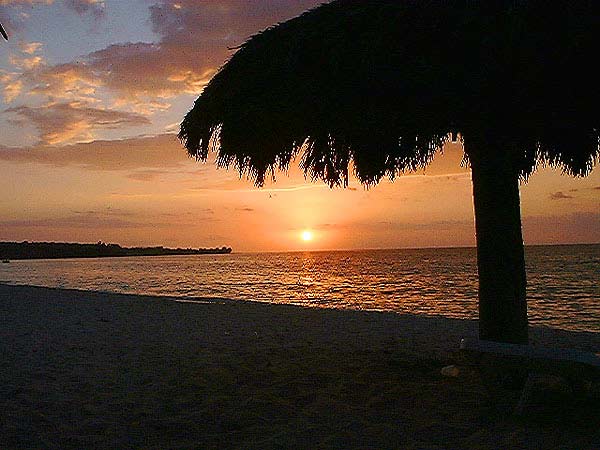 Lappy's Sunset
February 4th, 2001
This week's Sunset of the Week was taken at the current location of the Irie Vibes Bar & Restaurant. It was taken at the live webcast and chat of the Meeting of the Board #2 during the 3rd Annual Beingee's Meeting of the Board! This will be the last webcast from Irie Vibes at their present location because they are expanding and moving further up the beach near to Alfred's Ocean Palace! Same great food, same great people, just a new location, more centralized location! The Negril Entertainment Network will be working with Lappy for a special Valentine's Affair for you starting at 9:30pm with Freddie McGregor, Edge Michael, Ghost, Marcia Griffiths and more! Detail to follow! Beingee's would also like to make another announcement. As discussed with many boardies throughout the previous year, the 4th Annual Beingee's Meeting of the Board will be held in November 2001! Yes, that's right, there will be 2 "Annual Meeting of the Boards" held this year and all future Annual "Meetings of the Board" will be held in November (excluding the "Board Meeting Daze that occur whenever a large number of Boardies come to Negril). This will allow Cubba of MXIII to arrange his 11th (and future) Annual Bob Marley Birthday Bashment without having to worry about conflicting times or dates as well as give us time to plan special Board events. We would like your input as to the best week in November to hold the event! Thanks for all your help and support over the past 6 years!
Daily Music News: The Negril Entertainment Network will be taking a break until this week's 4th "Meeting of the Board" at 3-Dives on Monday for sunset starting at 4:30pm. Lydie has great food and view is nothing less than spectaular! Once again, check for the event details on the Negril Message Board as their time approaches. The post will guide you through the procedure to join in the live web cast and chat in the Negril Chat Room. To make it to the Negril Message Board click on the Main Menu above or below and then look for the Negril Message Board link!
At 4:00pm - a warm afternoon in the sun! The temperature is 84° F, 29° C.
Click here for Translation
Beingee's Internet Negril Privacy Policy
Beingee's Internet Negril.Com is Powered By Globalnet


We use them and they can provide for all your Hosting Needs!

Other area to visit in Jamaica:

© Copyright 2001. Beingee's. All Rights Reserved.