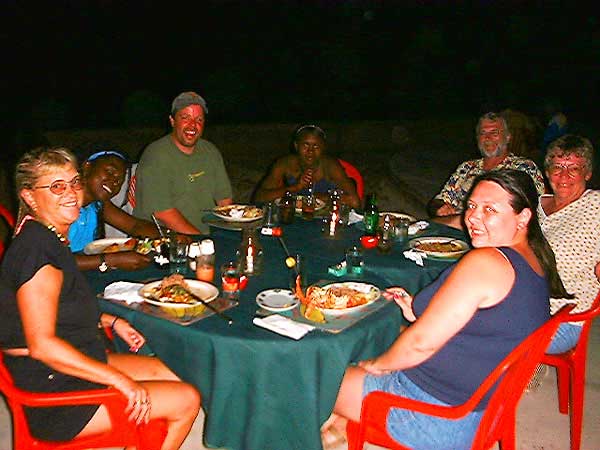 A Meeting of the Board
February 10th, 2001
This past week has been the 3rd Annual Beingee's Internet Negril.Com Meeting of the Board. All are invited as this grew out of the community spirit that overrides the Negril.Com web site, especially the Negril Message Board - making it one of the more seriously ranked Internet sites in Caribbean. And today's Negril Today picture shows just some of the boardies that have made these annual events possible! Breaking tradition, we will mention who is in the picture, from lef to right in a circular fashion we have BarbW, Nicey, Matt, Belinda, Husker John, Cactus K and Suz! They are all enjoying another great dining experience at the Happy Banana II - Suz had the Thermadore and K had the Curry - decisions, decisions! (grin)
Daily Music News: The Negril Entertainment Network is taking a few days break! The NEN will be working on more events during the next few weeks but the next scheduled events are on Wednesday. As the time for each event approaches, check for the event details on the Negril Message Board. These posts will guide you through the procedure to join in the live web cast and chat in the Negril Chat Room. To make it to the Negril Message Board click on the Main Menu above or below and then look for the Negril Message Board link!
At 12:49am - Ginger Tea and a movie... The temperature is 76° F, 25° C.
Click here for Translation
Beingee's Internet Negril Privacy Policy
Beingee's Internet Negril.Com is Powered By Globalnet


We use them and they can provide for all your Hosting Needs!

Other area to visit in Jamaica:

© Copyright 2001. Beingee's. All Rights Reserved.