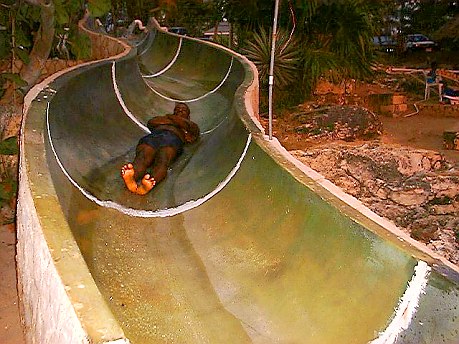 Brent in Action
February 11th, 2000
Just because you are no longer under 20, doesn't mean you can't act as a kid in Negril! In fact, childlike behavior is one of the benefits of a Negril holiday! Imagine walking down the street singing your favorite song and no one takes notice! You greet everyone you come across with a genuine "Whata g'wan?" And of course you can act the fool as Brian shows here at the water slide at Pickled Parrot! If you need to recapture your youth, you can do no better than a week or ten days in Negril - the capital of casual! Daily Music News: Noted, cyber host Rob of the Negril Entertainment Network has overworked his himself both physically and mentally. Constantly avoiding doctors, he finally followed their orders to take a few days off and relax, having minimal stress for the next week or so until a follow up session is held. It's nothing serious, basic exhaustion, so Rob is in need of serious rest. As soon as more information is available it will be posted so please be sure to check the Negril Message Board for the most current information on joining the webcasts and chat sessions! To make your way to the Negril Message Board click on the Main Menu above or below and then look for the Negril Message Board link!
At 6:18pm - sunset over. The temperature is 80° F, 27° C.
Click here for Translation








Other area to visit in Jamaica:

© Copyright 2000. Beingee's. All Rights Reserved.