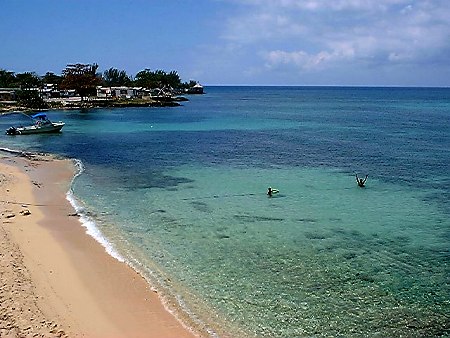 West End Beach
February 12th, 2000
Negril is famous for it's seven mile of sandy stretch that conquers up visions of paradise in many people's mind. But the West End is not without it's own beautiful beach areas! Shown here is the beach right next to Negril Yacht Club. On weekends, the locals sometimes plan parties to celebrate everything from birthday to memorials to fallen friends. Experience the real flavor of Negril - do the West End! Daily Music News: Noted cyber host Rob burned himself out by overworked his himself both physically and mentally according to a very competant doctor. Usual avoiding doctors, Rob finally followed orders to take a few days off and relax, having minimal stress for the next week until or so until a follow up session is held. It's nothing serious, basic exhaustion, so Rob is in need of serious rest. As soon as more information is available it will be posted so please be sure to check the Negril Message Board for the most current information on joining the webcasts and chat sessions! To make your way to the Negril Message Board click on the Main Menu above or below and then look for the Negril Message Board link!
At 5:35pm - sunset finish.... The temperature is 80° F, 27° C.
Click here for Translation








Other area to visit in Jamaica:

© Copyright 2000. Beingee's. All Rights Reserved.