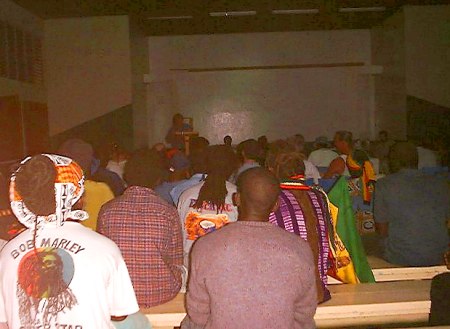 Chamber's Ganja Decriminalization Meeting
February 9th, 2000
The following notes from the Negril Chamber of Commerce were reported here by Music Mon as I was not feeling well enough to attend. Thanks goes to Music Mon! Report is as follows:
Chamber of Commerce hosted a public forum on the decrimilizing possesion of small amounts of ganga. Speakers from three groups were represented. The first was the National Alliance for Legalization of Ganga Jamaica (NALG) whose speaker was Paul Chang who is one of the founders of the organization. The second speaker was Keith Stroup, executive director of NORML in the states. Lindesmith Center Foundation, also a big organization in the states promoting legalization of ganga, was represented with guest speaker Deborah Small. About 80 people were present at the community center in Negril. More details later on ..
Daily Music News: As we have noted, your cyber host Rob of the Negril Entertainment Network has overworked his himself both physically and mentally. After avoiding doctors, he finally followed their orders to take a few days off and relax, having minimal stress for the next week until or so until a follow up session is held. It's nothing serious, basic exhaustion, so Rob is in need of serious rest. As soon as more information is available it will be posted so please be sure to check the Negril Message Board for the most current information on joining the webcasts and chat sessions! To make your way to the Negril Message Board click on the Main Menu above or below and then look for the Negril Message Board link!
At 12:24am - some cloud cover. The temperature is 75° F, 23° C.
Click here for Translation








Other area to visit in Jamaica:

© Copyright 2000. Beingee's. All Rights Reserved.