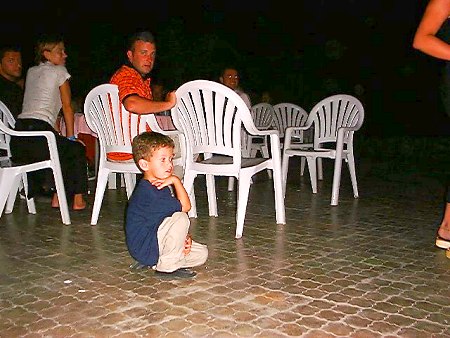 Child at Play
February 8th, 2000
Many people ask if Negril is a place for children. Well, if the young ones are looking for a six foot mouse, then maybe their may be a more appropriate place. But if your offspring are the inquisitive type and are looking more adventurous activites - look no further than Negril! In addition to having the world's largest sandbox in our seven miles of white sand beach, the cliffs offers many great places on the cliffs to play including the Sunset Show at Mariner's Inn! This young gentleman who is resting after running all around the dance area at Mariner's with his dad (and others) chasing him in a game of catch shows it all! Whether the beach or the cliffs, children are welcome in Negril! Daily Music News: As mentioned earlier, you cyber host Rob of the Negril Entertainment Network has overworked his human stamina, both physically and mentally. Doctors orders is to relax and have minimize stress for the next week until a follow up session is held. There seems to be nothing serious, but as some doctors state, Rob is completely exhausted and is in need of rest. As soon as more information is available it will be posted so please be sure to check the Negril Message Board for the most current information on joining the webcasts and chat sessions! To make your way to the Negril Message Board click on the Main Menu above or below and then look for the Negril Message Board link!
At 8:44pm - a perfect night. The temperature is 79° F, 25° C.
Click here for Translation








Other area to visit in Jamaica:

© Copyright 2000. Beingee's. All Rights Reserved.