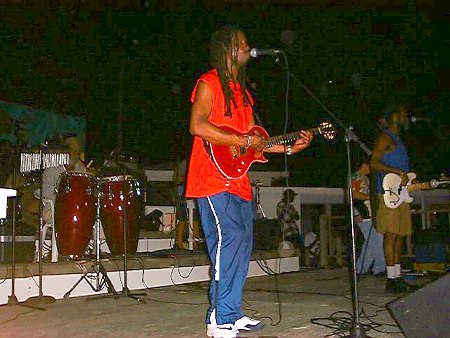 Ark Band at Roots
February 7th, 2000
Negril played host to an incredible Midwestern, USA band known as the Ark Band. Formed by brothers from St. Lucia, they made their adopted home in Columbus (aka Cowtown), Ohio, USA and have been bringing the righteous sounds of reggae to the breadbasket of the US and now the world thanks to the help of the NEN and Jeanne and the notorious Sel-Vin! Shown here is guitar artist Micheal as he jams for the audience at Roots Bamboo! It was brought to you live on the NEN! Oh what a night! Daily Music News: The Negril Entertainment Network had a successful webcast on Monday night, but all the sunning around and arranging an everchanging schedule seems to have taken it's toll on yours truly, the doctors feel that the overwork and stress must be eliminated so for the next few days up to a week the updates and NEN schdule will need to be put aside in order to recuperate. To be honest, I've been feeling much less than 100% for a few weeks and wish to extend an apology to anyone that I didn't get a chance to meet, but somethings are just out of my conrol. I'm only human after all. As soon as I can relate more info, please be sure to check the Negril Message Board for the most current information on joining the webcasts and chat sessions! To make your way to the Negril Message Board click on the Main Menu above or below and then look for the Negril Message Board link!
At 7:10pm - sunset over... The temperature is 79° F, 25° C.
Click here for Translation








Other area to visit in Jamaica:

© Copyright 2000. Beingee's. All Rights Reserved.