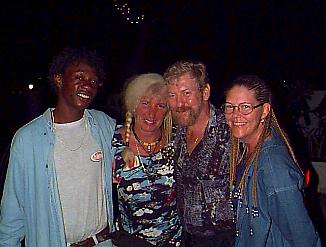 Happy Anniversary
January 9th, 1999
Two years ago, Foxfire Fred and Foxfire Cindy (ff - second right - and ffCindy - second left - from the Negril Message Board) exchanged vows on the Negril beach at Whistling Bird. On Saturday night they joined the NEN crew at the Negril Yacht Club to celebrate their special day. From the smiles on their faces, it seemed to be a wonderful evening! Happy Anniversary! Remember that you can check the Special's section for Negril Wedding Packages that are available, including floral arrangements. Shown with the happy couple is Cyber Jock Funny Face and Root Anne (from the St. Louis Krewe fame). Daily Music News: The broadcasts just keep getting better on the Negril Entertainment Network when we broadcast live from the Negril Yacht Club. Saturday night's party was a fun one - we had an early evening children's hour where the kids took over the mics. It was quite an experience. You never know what you will hear on the NEN! There will be more live video, reggae, interviews and fun chat - so be sure to join us starting around 8:00pm. Look for details to be posted as usual on the Negril Message Board just before show time - keep tuned in mon!
At 11:13am - what a night last night! The temperature is 77° F, 25° C.
Click here for Translation







This page is sponsored by Catcha Falling Star on the majestic cliffs of beautiful Negril Jamaica. If you like this website, be sure to book your next visit with Catcha Falling Star - just click on the link to take a tour of the property! And be sure to let them know you saw them on Beingee's! If you want to be a sponsor, bemail us. Thanks!
Other area to visit in Jamaica:

© Copyright 1998. Beingee's. All Rights Reserved.