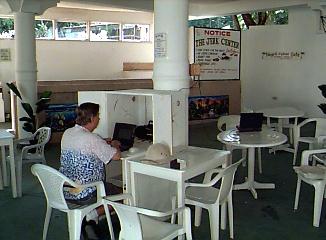 Cybering in Negril
January 8th, 1999
It's 10:00am in Negril so that must mean that the Negril Cyber Cafe is open for business! Elf from Minnesota, USA (shown here at one of the Cyber Stations) is busy using the cafe's laptop and enjoying a cup of fine Blue Mountain coffee during his early morning cyber stroll. Elf wanted to say a special hello to Deb in Minnesota, soon to be coming down (near the end on January - hope to meet you then Deb). If you are looking for that cyber connection in Negril - be sure to stop by Eddie's Tigress 2 Negril Cyber Cafe! Daily Music News: The weekend of broadcasting is going great with the Negril Entertainment Network live from the Negril Yacht Club. Friday night's with live video was some of the best yet - so look for more video, reggae, visitor interviews and superb chat with all your Negril Internet friends. Look for the NEN to be starting around 8pm or so. Details, as usual will be posted in the evening on the Negril Message Board just before show time - so keep tuned in mon!
At 10:01am - the Negril Cyber Cafe is open! The temperature is 77° F, 25° C.
Click here for Translation







This page is sponsored by Catcha Falling Star on the majestic cliffs of beautiful Negril Jamaica. If you like this website, be sure to book your next visit with Catcha Falling Star - just click on the link to take a tour of the property! And be sure to let them know you saw them on Beingee's! If you want to be a sponsor, bemail us. Thanks!
Other area to visit in Jamaica:

© Copyright 1998. Beingee's. All Rights Reserved.