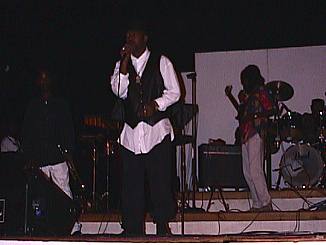 Junior Cat
November 6th, 1997
Wednesday night's live reggae was hot mon and the Reggae Sea Side Bash at Roots Bamboo was the place to be! Crystal warmed up the stage for the headliner Junior Cat to entertain the vacationing crowd. And entertain he did, as shown here from last night's preformance on the fabulous Negril beach. In order to make you feel part of the action, we have something special for you! Click here to hear a sound clip from Junior Cat at last night's show. It is a fairly small (124K) WAV file - about 11 seconds worth of sound. Download and listen and let us know how you like it mon! Irie! Today's Back Ah Yawd continues at the new Beingee's office at the Vendor's Plaza. Click on Back Ah Yawd for the latest mon!
At 7:19 am, a quiet morning after a wild night. The temperature is 75° F, 24° C.






© Copyright 1997. Beingee's. All Rights Reserved.