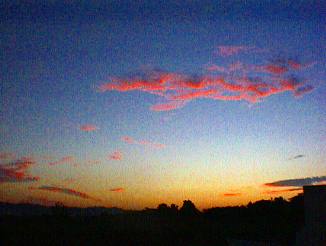 Morning Sky
November 7th, 1997
Today's picture was taken just a few moments ago as the sun was just beginning to rise over tropical Negril. It is calm and quiet high above Negril at the Hilltop Villas and Apartments Penthouse Suite, the same place where we took Tuesday's quiz picture. We are pleased to announce that Hilltop is our latest hotel sponsor, check the resort out on our Where To Stay section - it is classified as a cliff property on the map. Hilltop also wants to pass along a great deal for the rest of November. All rooms are a special US$54 a night for the rest of November! Yah mon! This applies to all rooms except the penthouse, which is a special US$80 per night! What a deal on the best view in Negril! Irie! In today's Back Ah Yawd, Delroy meets Inge at Cafe Coconut. Click on Back Ah Yawd for today's episode!
At 7:10 am, high above Negril. The temperature is 77° F, 25° C.






© Copyright 1997. Beingee's. All Rights Reserved.