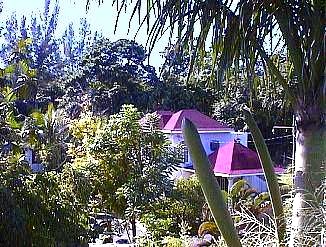 Hilltop View
November 5th, 1997
We have a winner! Yah mon! From the various guesses we received - yesterday's quiz was harder than usual. But that didn't prevent Juanita and Rahb from Rochester, New York, USA from correctly guessing the answer to the quiz - Hilltop Villas and Apartments! Yesterday's picture was taken from the penthouse suite high above the bay (the buildings at the bottom of yesterday's picture are the Sunshine Village Apartment Hotel). Today's picture is the opposite view from the penthouse suite at Hilltop. The Hilltop Villas and Apartments will soon be added to the Beingee's Where To Stay section, we would like to thank them for their support. Yah mon, and what a view! (Note: Hilltop is getting ready to announce their November Season End Special - great deals for the rest of the month mon - look for it later this week mon!) Today's Back Ah Yawd has Delroy and Garth at the new Beingee's office at the Vendor's Plaza. Click on Back Ah Yawd for more mon!
At 7:33 am, a calm and cool morning. The temperature is 77° F, 25° C.






© Copyright 1997. Beingee's. All Rights Reserved.