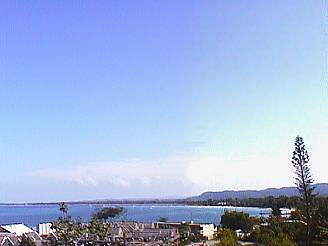 Beautiful View
November 4th, 1997
What a view mon! Yesterday was a beautiful day in Negril! And what a beautiful view! Since we haven't had a quiz so far this month, we thought we would test your skills. Where was this incedible view photgraphed? The hotel where this picture was taken has been welcoming visitors to Negril since 1967. It is a real treasure of a property but not as well known as some of the more familiar places in Negril. The first person to email the correct answer will receive a free beverage of your choice compliments of Beingee's at Risky Business. Good luck mon! In today's Back Ah Yawd Delroy and Gladstone continue at Top Yard. Click on Back Ah Yawd for the latest installment!
At 7:10 am, roosters greet the morning. The temperature is 75° F, 24° C.






© Copyright 1997. Beingee's. All Rights Reserved.