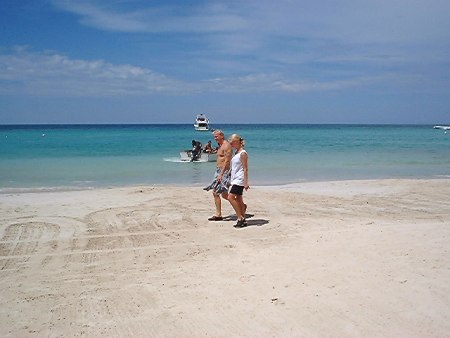 The Morning Stroll...
October 5th, 2000
Nearly any morning in Negril, one can wake as the other tourists are still sleeping off the night before's activities and enjoy the Negril beach as it can be enjoyed at no other time of the day! The early working groundskeepers have swept the beach clean (as show here, picture taken at the Negril Palm Beach Resort by Michael Funny Face) and you have the entire beach practically to yourself! It is fun to imagine that you are walking the same path that some of the most famous pirates of yesteryear walked, or fun to contemplate your place in this crazy world in which we live - but that is what moments like these are for - a time for yourself to be yourself! No worries mon!
Daily Music News: The Negril Entertainment Network will be break this weekend, the NEN Crew will be attending the wake for FunnyFace's grandmother, who recently passed from this mortal plane. We hope to be back with some day webcasts next week so check back here and the Negril Message Board for the latest information about joining the live webcast and chat in the Negril Chat Room and being a part of the NEN. As always, the information will be posted on Negril Message Board before the next event! To make it to the Negril Message Board click on the Main Menu above or below and then look for the Negril Message Board link! See you soon mon!
At 2:45pm - the clouds dripping rain in the afternoon... The temperature is 84° F, 29° C.
Click here for Translation






Beingee's Internet Negril Privacy Policy

Other area to visit in Jamaica:

© Copyright 2000. Beingee's. All Rights Reserved.