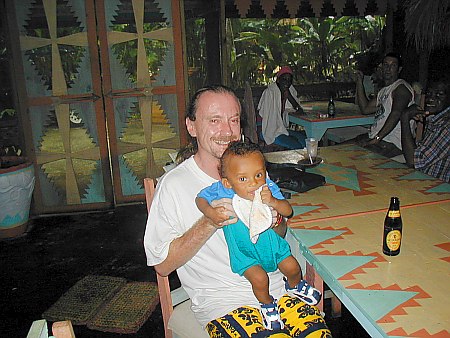 A Slice of the Pie!
October 6th, 2000
A few weeks ago John at Chippewa Resort held a party and invited many of his friends and their families to a feast unlike anything seen in Negril for quite a while! Culinary arts were at an all time high as wonderous food was presented to the party go'ers! One attendee, Baby Slice, shown here with yours truly wasn't quite so enchanted with the food as he was with endlessly jumping up and down in someone's lap, strategically seeing how often he could land one of his feet in the spot where it could do the most damage (grin - if he were a few extra pounds in weight many of us would have been in trouble)! Now If someone could only bottle the energy of that young child, Guinness wouldn't be the only drink with a label on it that says "Is good for you"! Look for more of Baby Slice as well as the rest of the pie coming up this next week! Mr. Slice Pizza and the new bakery rules!
Daily Music News: The Negril Entertainment Network will be break this weekend, the NEN Crew will be attending the wake for FunnyFace's grandmother, who recently passed from this mortal plane. We hope to be back with some day webcasts next week so check back here and the Negril Message Board for the latest information about joining the live webcast and chat in the Negril Chat Room and being a part of the NEN. As always, the information will be posted on Negril Message Board before the next event! To make it to the Negril Message Board click on the Main Menu above or below and then look for the Negril Message Board link! See you soon mon!
At 10:36am - no clouds this morning, just blue! The temperature is 82° F, 28° C.
Click here for Translation






Beingee's Internet Negril Privacy Policy

Other area to visit in Jamaica:

© Copyright 2000. Beingee's. All Rights Reserved.