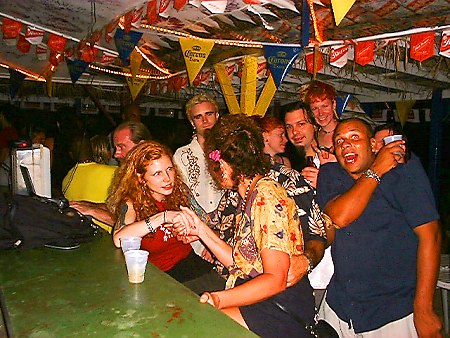 DeParty at DeBuss!
October 4th, 2000
Last week on Saturday night it was a great evening to party on the beach! Once again the Negril Entertainment Network brought you live reggae from DeBuss beach stage! As always, fun times were had by everyone as this group shot taken by Michael Funny Face at the DeBuss bar shows! Even a hurricane couldn't stop the bashment! Although Hurricane Keith threatened, the show went on! Keith has since caused some normal sand washout from the heavy wave action, but as always Mother Nature will set everything straight! No worries mon, this is Negril! Grab a seat at the bar and order another round of ice cold Red Stripes!
Daily Music News: The Negril Entertainment Network will be back on Saturday night from DeBuss as we continue nearly three years of live webcasts from one of the foundations of reggae! Check back here and the Negril Message Board for the latest information about joining the live webcast and chat in the Negril Chat Room and being a part of the NEN. As always, the information will be posted on Negril Message Board before the next event! To make it to the Negril Message Board click on the Main Menu above or below and then look for the Negril Message Board link!
At 3:37pm - cloud covered afternoon... The temperature is 82° F, 28° C.
Click here for Translation






Beingee's Internet Negril Privacy Policy

Other area to visit in Jamaica:

© Copyright 2000. Beingee's. All Rights Reserved.