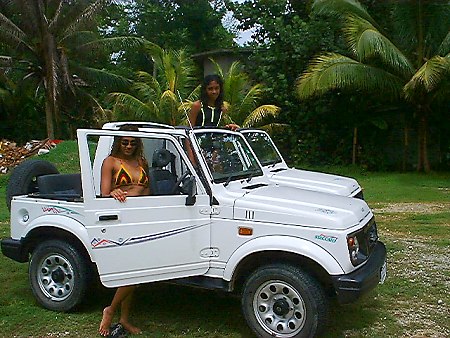 Vernon's Rentals!
October 3rd, 2000
Vernon's Fun Holiday Seafood Restaurant is much more than just a great seafood restaurant! Vernon also offers rental vehicles of all kinds at Vernon's Car, Jeep, Bike and Jet Ski Rentals! Today's picture features just a couple of the open air Jeeps, with removable tops that Vernon offers for daily, weekly and monthly rental rates! These Jeeps are a great way to get around Negril and see some of the spectacular vistas surrounding the area of Westmoreland and Hanover - or the rest of the island for that matter! To contact Vernon, click here or on the highlighted links above! We would like to thank Michael Funny Face for the past few days pictures - he is still learning the nuisances of the digital camera including keeping his hat out of the way of the flash! (Sorry Michael, I couldn't resist that one!)
Daily Music News: The Negril Entertainment Network will be back on Wednesday night at Roots Bamboo! Check back here and the Negril Message Board for the latest information about joining the live webcast and chat in the Negril Chat Room and being a part of the NEN. As always, the information will be posted on Negril Message Board before the next event! To make it to the Negril Message Board click on the Main Menu above or below and then look for the Negril Message Board link!
At 9:03am - music in the air... The temperature is 78° F, 26° C.
Click here for Translation






Beingee's Internet Negril Privacy Policy

Other area to visit in Jamaica:

© Copyright 2000. Beingee's. All Rights Reserved.