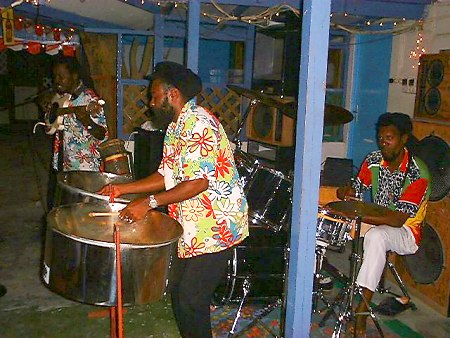 Green and Steele!
March 3rd, 2000
The other night, while strolling the beach, we caught the unmistakable sound of a steel drum off in the distance! Intrigued, our party found the way through the soft sand to the one and only - Alfred's Ocean Palace! Never a dull moment at Alfred's! The drums had the patrons nearly dancing on the bar and you could just sense that these folks were having one of those unforgettable Caribbean nights in paradise! So, to all you Spring Breakers coming down, after you get all free drink giveaways you can handle (remember to arrive early for those things - the lines can get quite long), head to something real Jamaican, and you can't go wrong with Alfred's! By the way, as a light snack the veggie crepe is a great way to some vitamins back in your alcohol soaked body! Daily Music News: The Negril Entertainment Network had a wonderful webcast live on Friday night thanks to Sel-Vin from Negril's hottest night spot - Alfred's Ocean Palace! The NEN wants to Big Up Alfred for his generous support and it is great to know that he has also joined the Beingee's Negril.Com family of sponsors! Next scheduled event is Sunday night from the tHATCH hUT with the absolute latest in dancehall - we're not talking Bob Marley here folks - we're talking the latest from the dancehall capital of Kingston - courtesy of that master of detraction - afFLICTED! Be sure to check out his yard at http://www.afflictedyard.com - but be ready for some mind bending talent - slipping back to my Midwest USA roots, the dude rocks! Be sure to check the Negril Message Board for the most current information on joining the webcasts and chat sessions! To make your way to the Negril Message Board click on the Main Menu above or below and then look for the Negril Message Board link!
At 11:13am - peacocks on the roof! The temperature is 80° F, 26° C.
Click here for Translation








Other area to visit in Jamaica:

© Copyright 2000. Beingee's. All Rights Reserved.