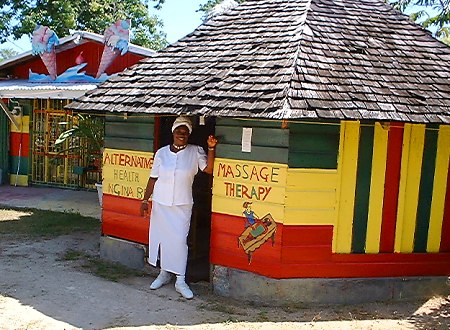 You're On Vacation!
March 2nd, 2000
Your mind has been on the water and the sand that waits for you in our tropical paradise. The tanning sun warms your body - your mind and body are becoming one again. To complete the feeling, quoting my high school POD teacher, Mr. Van Noy, no better money can be spent on your total soul than a real massage from someone who really knows a real massage. Located at House of Dread, Beverly Haslan, Physiotherapy Affiliate promotes creating a Healthy Life Style through the
benefits of Therapeutic Massage...stress relief..reflexology...aromatherapy oil..lymphatic systems...facial oil...manicure...pedicure...specializes in relief for those with pain in the joints...calls herself Ngina Bev and can be reached by email here or phone numbers are 876-957-4833(w) or 876-601-0936(h). Beverly and other Jamaican businesses can be found in the Beingee's Classified Ads section. Daily Music News: The Negril Entertainment Network will be back live from the beach on Friday night will take the NEN back to the Original Party Place- Alfred's Ocean Palace! Next week look for more activites including Mariner's Inn on Tuesday and Roots Bamboo on Wednesday! Be sure to check the Negril Message Board for the most current information on joining the webcasts and chat sessions! To make your way to the Negril Message Board click on the Main Menu above or below and then look for the Negril Message Board link!
At 3:58pm - backgammon in the afternoon... The temperature is 86° F, 30° C.
Click here for Translation








Other area to visit in Jamaica:

© Copyright 2000. Beingee's. All Rights Reserved.