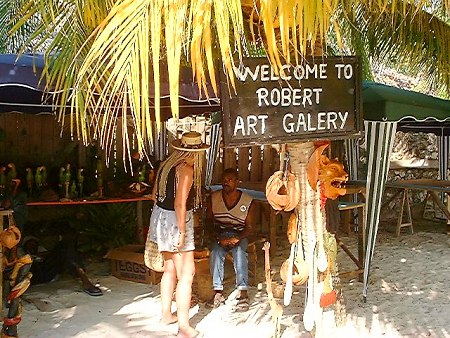 Craftsman at Work
March 4th, 2000
The Tropical Insanity venue is in it's final stages of becoming what can only be described as a one of a kind venue! The necessary sound system is being set up in such way by using acoustic baffles and directional speakers to produce incredible sound - it was quite a treat for Walter (the inspiration behind this massive undertaking) to show me the state of the art sound board - mon, I wished I could have used one of thoses when I was in Audio Engineering at The Ohio State University! Forgetting the sound for a second, mention has to be made of the "Jamaican village" effect that Tropical Insanity has created on the beach - shown here is one of the craftsmen, Robert, discussing his wood working skills with ffCindy - be sure to stop and say hi to Robert! He should be "putting on a show"" for you by carving right in his booth. Thanks to our boarder Sienna, Robert may even let you take a hand at wood working. It isn't as easy as it looks! Daily Music News: The Negril Entertainment Network with help from Sel-Vin will be live Sunday night from the tHATCH hUT with the latest in dancehall - no Bob here folks - we're talking the latest from the dancehall - courtesy of that master of detraction and a personal friend of mine - afFLICTED! Check out his wikked website at http://www.afflictedyard.com - but be warned - it ain't Negril.Com! Be sure to check the Negril Message Board for the most current information on joining the webcasts and chat sessions! To make your way to the Negril Message Board click on the Main Menu above or below and then look for the Negril Message Board link!
At 6:39pm - sunset finish... The temperature is 82° F, 28° C.
Click here for Translation








Other area to visit in Jamaica:

© Copyright 2000. Beingee's. All Rights Reserved.