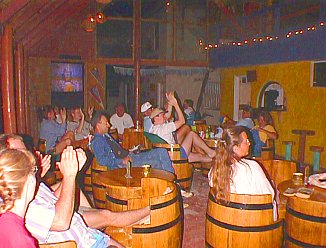 Michigan Wins!
January 2nd, 1998
The Amaizing Blue finished up a perfect season yesterday as fans from Michigan, USA cheered them onto victory - shown in this picture from the newly remodeled Risky Business on the beach. Risky Business was the #1 place to watch the #1 Michigan Wolverines end their undefeated season with a sweet victory in the Rose Bowl. A special note to Brian and the rest of Crew in Ann Arbor - great job guys! Forget Disneyworld - come party down here mon! Back Ah Yawd continues today with Karen at last week's Internet Pub Crawl! Click on Back Ah Yawd for more!
At 9:51am, blue sky returns! The temperature is 78° F, 26° C.
Click here for Translation






© Copyright 1998. Beingee's. All Rights Reserved.