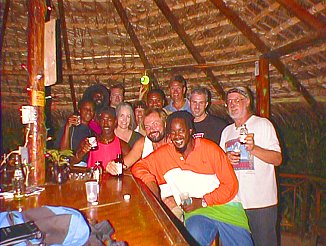 Thatch Hut Time
December 27th, 1997 11:00pm
Prento and the rest of the party is having a wicked time at the Thatch Hut Bar in Tigress Lane. We had a great time tonight on the Negril Chat Room with everyone online tonight - especially all the new faces (?) in the Chat Room. We will have another update tonight from the Patra Concert at Sam Sara! It should be great mon! See you there. Back Ah Yawd continues today with Delroy and Reuben chatting about Christmas. Click here to check it out mon!
At 11:00 pm, no more crawling! The temperature is 78° F, 24° C.
Click here for Translation






© Copyright 1997. Beingee's. All Rights Reserved.