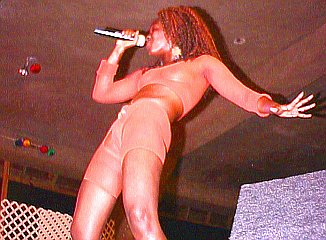 Patra!
December 28th, 1997
Patra! What else can I say? The lady put on one incredible show last night after the Internet Pub Crawl. Sam Sara hosted this performer, as beautiful as she is talented! Her show packs a punch of high sexual energy and is perfectly balanced by Patra's artisitic control as a performer. Click here to hear a short sample from her show! It is in Real Audio format, so if you have Netscape, you may need to enter this address (http://www.negril.com/smpatra1.rm) into your Real Audio Player. Sorry for not getting this page up last night - but I was tired mon! And besides, I forgot to get a sunset picture this week...
Back Ah Yawd is back on break - so be sure to listen to the Patra sound clip and let me know what you think of the sound editing. I'm experimenting with new software. Thanks mon!
At 8:12 am, why am I awake? The temperature is 80° F, 27° C.
Click here for Translation






© Copyright 1997. Beingee's. All Rights Reserved.