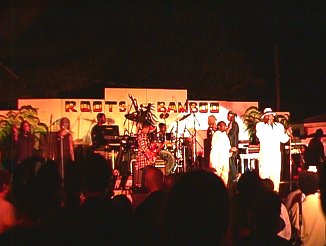 Chaka Demus and Pliers!
January 1st, 1998
Although our first live broadcast was less than what we had hoped, the concert was awesome mon! Today we have a picture of Chaka Demus and Pliers performing on the stage at the New Year's Eve Bashment at Roots Bamboo on the beach! To get a sample of what we hope to bring you live more often, click here for a Real Audio sound clip. Note: if you are using Netscape, you may need to enter this address (http://www.negril.com/nn010198.rm) directly in your Real Audio Player. Irie! Back Ah Yawd returns today with Delroy talking with Karen at last week's Internet Pub Crawl! Click on Back Ah Yawd for more!
At 8:56am, all the best for the new year! The temperature is 75° F, 23° C.
Click here for Translation






© Copyright 1998. Beingee's. All Rights Reserved.