Who are we?
Negril

Jamaica

Journey
Search

Beingee's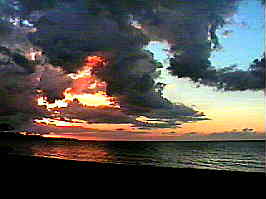 Season's Greetings

from the Gurus at Beingee's

Happy Holiday's to all Internetians on this breezy Caribbean winter day in Negril, Jamaica. Garth and Rob put this sunset on the 'net as a bit of a gift to those without sun. Heard it's pretty cold, even in sunny Florida. Don't think we made 80 today, but hit the high 70's. Windchill, you know (eighty and worrying about windchill - ho, ho, ho)! Things go on. Be sure to check our Coral Seas/Gold Nuggett site. You'll be glad you did! Keep watching all our pages, they'll be updated weekly! Irie, mon!


---
© Copyright 1995. Beingee's. All Rights Reserved.