Beingee's Top
Negril News

Jamaica

White Ash
Search

to Beingee's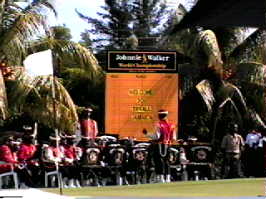 Strike Up the Band at Tryall!
---
Once again, we have a shot of the Last Johnnie Walker Golf Tournament! We were not able to secure any internet rights to this event and now that J. Walker and Co. have left the scene, who knows? The Computerman and Garth are stumped on this one, as well as The USA Network. Nevertheless, we have a nifty shot of one of the excellent high school bands playing on the bright Thursday morning. Opening ceremonies were interesting. Later - keep clicking!


---
© Copyright 1995, 1996. Beingee's. All Rights Reserved.