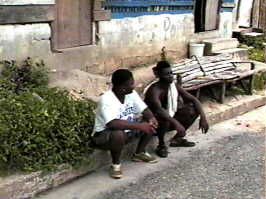 Joseph: Bwoy is ah lucky thing sah mi did ah save few penny fi di reggae fest.

Raymond: Den mi old granny used to sah uh one one coco full basket.

Joseph: Duane noh sah him ha one whole massive ah come down from Canada.

Raymond: Ah pure big head mi ah bun dat dah night nuff Dragon Stout fi back it up to.

Joseph: Soh yuh nah teck di honey to meck she get some ah di fever.

Raymond: Mi ha fi go buy reggae bed fi her all night.

Click for the previous Back Ah Yawd, or click for the next one.