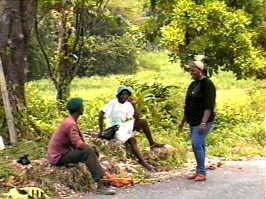 Missy: Bwoy dis summer look like ey doe hot hot hot!

Jillette: Yah mon mi can feel di vibes wid Sumfest Sunsplash.

Byron: Ah wah dem ah keep 'splash dis year?

Missy: Noh Chukka Cove inna St. Ann's Bay.

Byron: Yah mon. Ah wah irie plac pan di water dun dah. Look like Sunsplash will be hot hot hot!

Click for the previous Back Ah Yawd, or click for the next one.