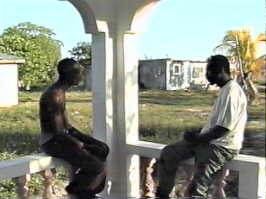 Wayne: Yuh know say every weekend night wi ha reggae muzick ah play all over di country side.

Al: Mi know dat mon dat ah di reason why mi love to spen week end up dah.

Wayne: Most ah dem week end dance dah free. Man an man jus bring dem girl an come party.

Al: Ah pay Red Stripe, Guiness and Heineken wid white rum dem mon dah drink.

Wayne: Mi ah tell yuh say dem bun di weed hard too.

Al: Yeah man mi know dem habe waga waga up dah.

Click for the previous Back Ah Yawd, or click for the next one.