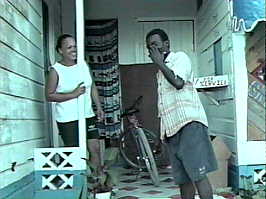 Marsha: Yes Mr. Dave, ah yuh tell mi say yuh would come cook fi mi yesterday?

Dave: Bumboclot! Yuh know say mi nay memba.

Marsha: Ah so fi yuh memory shart.

Dave: Yesterday mi jus kick back ah mi yawd mi did ha some pea seed mi jus dig few holes an plant dem.

Marsha: So di wife never dah bout?

Dave: How yuh mean man she no ha fi come over come cook di I rice and peas fi I Sunday dinner.

Click for the previous Back Ah Yawd, or click for the next one.