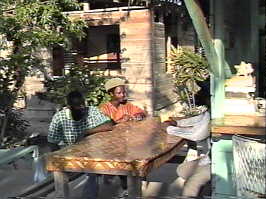 Mikey: When last time di dem eat some roast yam?

Noah: Ah long time mi noh really nyam none. Mi ah teck ah splert tiday go ah Uncle Charlie yam bush.

Tate: Soh wah yuh ah go do?

Noah: Wi doe go do some wock carry yam stick fi di yam dem wah jus ah grow.

Mickey: Soh uno nah go cook?

Tate: How yuh mean wi noh ha fi roast yam and cook four and ah whole heep ah bamboo cane mango. Mi ah nyam everything wah mi can over dah.

Click for the previous Back Ah Yawd, or click for the next one.