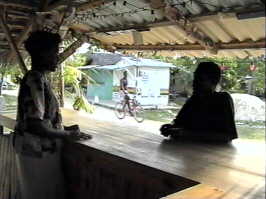 Sophia: Ah Carnival inna Kingston di whole ah dis week.

Devon: Den yuh nah know say every dem keep dat right after Easter.

Sophia: Yuh have calyspo singer and dancer from different Caribbean country perform. Live.

Devon: Wha an wha dem really do?

Sophia: Same thing like wha gwane ah Negril Carnival yuh ha crowning ah di Carnival Queen, di best cotume, di best tiny winy, whole heap of prizes and surprises.

Click for the previous Back Ah Yawd, or click for the next one.